Rob


Last updated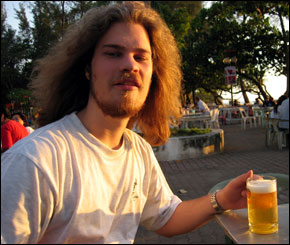 Greetings and salutaions!
As you may well have guess I am Robert, and as you must know by now, I am the author of this, a stunning website.
Apart from publishing vain ego-inducing photos of myself so that thousands around the globe, (and possible in other places), can enjoy the internet to its fullest this site is also a place they can see my works of animated brilliance whilst on the toilet using their wireless bluetooth palm pilots, or have photos of me and my life beamed directly into their brain while they sleep.
I'm usually described as having hair, big hair. I guess it's not completely unfounded, as I do have hair, and as you can see on the left, it's quite bushy. Scary thing is it just grows like that, doesn't need any encouraging at all, it just blooms all over my scalp.
Want to know a private secret ( well it was until I decided to write it here ) ? I'm gettin grey hairs already at the age of 20!! You can see them on the left side of my forehead ( that's your left, not mine ).. It's just about visible in the photo above.
My 21st birthday has been an gone, and so you know how I spent it? Working my arse off and sleeping to recover from said work. And you know the worst thing about that? I was really relieved about it - I was very stressed and tired, so all in all I was very pleased. Of course in hindsight I wished I'd made a big fuss and gotten hammered with my mates, but nevermind - locking myself in my room to work will obviously be more rewarding in the long run.
Other than dribbling over keyboards, and thinking "I really should do some work" I also enjoy the following:
Artwork ( I am still new to this though )
Music sequencing ( there are some examples in the music section )
Programming ( while not the most interesting of table conversation, it's certainly very very useful! )
Websites etc
I am also a fan of cartoons and films, in that order. I find that cartoons are more creative and so more interesting I will list some of my favourites
Invader ZIM
Rah Xephon
Naruto
One Piece
Hunter X Hunter
Futurama
Southpark ( it's getting back to it's former glory )
Nadia: The secret of blue water (AKA Fushigi no umi no Nadia) <- this is a simply beautiful cartoon, storywise.
The Road to ElDorado
The Mysterious Cities of Gold ( A TV series I used to watch when I lived in Syria but never finished because I was evacuated from the country due to a difference of opinions between the US and Iraq)
Johnny Bravo
and of the films I will list these:
The Matrix (only the first one, the others are God-awful, Morpheus reached out of the screen and slapped me at one point, I was that offended)
Terminator II: Judgement Day
Contact
The Shawshank Redemption
Schindler's List
The Negotiator
Rat Race
Evil Dead II and Evil Dead III: The Army of Darkness
and there are many others, but I always forget their names...
Amazing that you made it this far, so you now know a fair bit about me.. can't think why I am publishing this stuff here, maybe it is incase I forget and need reminder of what I enjoy doing!
Background
Race:
Caucasian
Born:
5am (ish) 29th October 1983 in Miri, Malaysia
Age:
21
Father:
Dutch
Mother:
Greek
Spoken Language(s):
English, some French and some Japanese ( probably more Japanese )
Schooling:

Shell Kindergarden in Pisau Camp (Miri, Malaysia)
Shell School in Pisau Camp (Miri, Malaysia)
Shell School in Damascus (Syria)
Internation School Of Paphos (ISOP) (Cyprus)
Shell School in Yenzi Camp (Gamba, Gabon)
Oratory School in Reading (UK) (see FaberPics)

University of Warwick (UK) [Still studying here]
Hair:
Light / Dark Brown (Depending on location (country-wise))
Eyes:
Blue / Green (Blue if there's a lot of light, though I'm told my eyes are blue in the morning when I wake up (?))
Height:
1.84m ( just over 6ft )
Weight:
a glorius 94kg
Shoulders:
Broad
Eyebrows:
Think
Hands:
Big
Feet:
49 (EUR) / 12.5 (UK)
Fave Colour:
Orange / Yellow
Cereal:
Wheetos (chocolate) / Fruit 'n' Fibre
Food:
Halloumi / Bacon and Omellete / Pollo Pizza ( by Dr. Oeteker, however you spell it)
Drink:
Pepsi (not coke) / Sprite / Dr. Pepper
Personal Hero:
Bruce Campbell (Ash in the Evil Dead series)
Phone:
Ericson A1018s / Sony CMD-J5 (I'm working on this!)
Hobbies / Interests:
Computers / Computing (y'know, programming and networking and all that other geeky stuff) / Nintendo etc / Gamboy Advance etc / Websites / Internet / Electronics / Explosives / Anarchy etc / Films (only at either end of the spectrum - so cheesy/tacky it is funny (Evil Dead) or good decent movies where bad guys can't get shot 789 times with out being hurt and the bad dudes die instantly when shot in the toe.. ) / TV (broadcasting, editing) / Special FX / 3D Studio Max / Animation (Flash) / Ripping and Illegal copying (DVD, games, software etc) / Anime (I'm president of www.AnimeSoc.co.uk)
Glasses / contacts?
Should, but stubborn. (Stigmatism in the left eye.. kinda like the tracking is not tuned properly.)
Other things of interest
I take part in AudioScrobbler, so the sort of music I listen to can be found by going to: http://www.audioscrobbler.com/user/RobM
I designed www.AnimeSoc.co.uk...
This website is probably the 5th incarnation of my homepage.. it's hosting is getting worse all the time, and the site is getting larger and larger. At the time of writing this site is: 1.04Gb (3,933 files). If you can't understand why it's so massive, try checking my art section and (heh heh) /Temp as that *always* has, and probably always will, contain a lot of random crap.. some personal I guess, but it's always interesting to have a look through...
An ICQ message that got off subject... (and a little long)
Sometime in the Summer Term 2001
no www ... batty.. damn I hate all these resrictions, these rules, these
filters, all this damned censorship.. I want to be able to use the internet
when I WANT to, I want to be able to look up interesting things that are not
politically correct, I want to educate myself in the ways of security, I
want to become an active member of an online community, such as newgrounds,
I want my online presence felt - I want contact with people outside this
hole, this prision - deciet is the weapon of this place - hidden amoungst
its trees and on top of its hill - it decieve people like me into believing
that I have freedom - and that I am not trapped - but unfortunately the
prison is not physical - as with freedom - it is in the mind - I am forced
to comply with things I do not agree with, to stand and listen to things I
am not interested. Above all I am forbidden my interests - school are meant
to be nuturing environments where we learn.. what have I learnt sine I came
here?
Some bullshit about quarks and nutrons, some common sense shite about the
liver and hormones. The one useful thing I have learned is Maths, and
perhaps the art of trickery, of being a convincing liar, or decieving others
as to my drive and intentions.
But I grow tired of acting - I want release and I want it now. I am not a
puppet, I am not a realy person - what ever happened to when men were men?
Fight Club put it very well - "we are a generation of men brought up by
women" how sad and true. I am worse off than that - I am a modern day sissy,
worse still I am a puppet - complying with dumb rules - obeying old decrpid
teachers who know less about the world than I
Take that dickhead Povey - always going on about being a real man - what the
hell does he know about being in the real world? I am twice the man he is -
I have lived in many places - lived a childhood with out a proper
foundation - the only constant thing in my life being my family, friends
came and went, along with everything else. I have experienced purity whilst
protected from the arogance of the "1st worlds" - the worlds where sex is
something you trade for a drink, where values are only upheld if the law
dictates it - where people live by the law - everyone is enprisioned. God
damn this sucks.
This is how I feel - and now that I have it all written down I feel better.
Explaination
It may be useful for you to realise that I was born in an Expat camp in West Malaysia, near the Brunei boarder, I then moved to Damascus Syria. So I have followed all the news and happaning around the world with an unusual view. For one, living in Syria has had a small part in fueling my hatred of the US, which is not a personal thing, nor do I hate the americans ( well.. I don't like their accent, but who does? ) I am just anti-establishment. And ths US treats the less powerful countries like children. More irritating than any of that are a few aspects of US society. I am of course referring to their television. I have noticed that in all the majority of their films and series the "foreigners" love the US, and think that everything is great there. It appears that most people accept this (this is my 2 cents on the subject, so don't bother sending my hate mail, it won't do you any good).
In my opinion the US is behind the rest of the world in may respects, not economically ( how could they be? everything revolves arond money.. ) but in other sense, values and morals, things like relationships are all going to hell. Not to mention the number and frequentness of violent crimes. And I see the rest of the world following in their footsteps, which is a shame - if only becuase of the loss of culture.
However, I am softening up to the idea that the US is not all bad.. maybe I should live there before I condemn them.
---